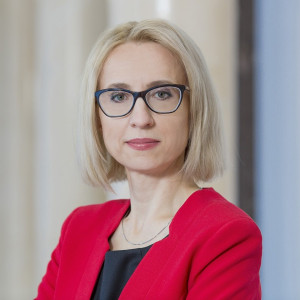 Teresa Czerwińska
Firma: Europejski Bank Inwestycyjny
Stanowisko: wiceprezes
A Polish national, born in 1974, is a Professor of Economics of Warsaw University. In 2010, she received her post-doctoral degree in Economics/Finance at the Gdańsk University where, in 2000, she had also obtained her Ph.D. in the same field of science. She is a 1998 graduate of the Gdańsk University with a major in Management, and in 2007, she also received an M.A in Psychology from the same Alma Mater. Professor Czerwińska is currently on unpaid leave from the Warsaw University. She specialises in risk management, financial markets, and public finances.
In the years 2015 – 2017, Teresa Czerwińska served as undersecretary of state at the Ministry of Science and Higher Education of the Republic of Poland. In the years 2017 – 2018, she held the position of undersecretary of state at the Polish Ministry of Finance and later, in 2018 – 2019, she became Minister of Finance in the administration of Prime Minister Mateusz Morawiecki. At the same time, she held the position of Governor of the European Investment Bank
From 2019 to 2020, she was Member of the Board of the National Bank of Poland. On 1 March 2020, she received a nomination to the position of Vice President of the European Investment Bank. Within her oversight, Prof Czerwińska is responsible for the countries of her constituency (Poland, Hungary, and Croatia), as well Eastern Partnership, Central Asia, China and Mongolia. She is also overseeing the subjects of science, education, innovation, digital economy, and InvestEU. Her tenure as EIB Vice-President is 6 years.
Bierze udział w sesjach: